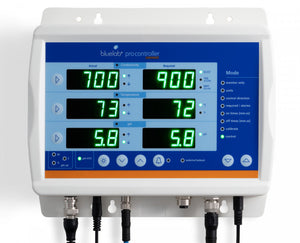 Bluelab Pro Controller Connect - SPECIAL ORDER
BLU-CONTPRO
Regular price $1,449.99 Sale
SPECIAL ORDER
CALL FOR DETAILS (204)727-2076
The Bluelab Pro Controller will maintain perfect and stable pH and nutrient levels in your reservoir, ensuring optimal nutrient availability for your plants at all times. Set your required targets for pH and conductivity and allow the controller to do the rest.
Since there's no need for any spot checks or manual adjustments, the Bluelab Pro Controller saves you time and labour so that you can focus on growing healthier plants every single time.
When you pair your controller with high-precision Bluelab PeriPod dosers, you'll have a complete nutrient dosing system. You can also connect other mains-powered pumps by using the Bluelab PowerPod.
Monitor and automate nutrient and pH dosing in reservoirs when paired with Bluelab PeriPod dosers
In-built safety lockouts prevent excessive dosing
Auto-resume dosing after power loss
View your reservoir parameters on your mobile phone no matter where you are
Multi-part nutrient dosing possible with multiple PeriPods and Connect software
Controls pH in the up (alkali) or down (acid) directio
High and low alarms to alert you when parameters are out of range
Dosing routine allows for effective mixing before next dose
2-metre/6-ft cable lengths for best positioning and viewing
Flexible mounting options for walls, posts and racks