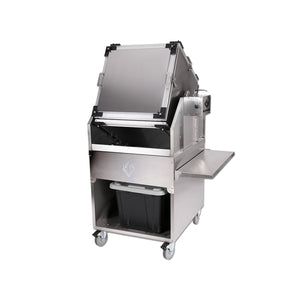 GreenBroz Alchemist 420 - SPECIAL ORDER
Regular price $15,899.95 Sale
Turn Your Trim Into Gold
The GreenBroz Alchemist 420 is a dry-sift, solvent-free extractor designed to ensure you are getting the absolute most out of your harvest. Our GreenBroz Dry Trimmers are so gentle on your flower that the trim is perfectly preserved and ready to be thrown straight into the Alchemist 420 for simple extraction. The Alchemist 420 Extractor can be operated as a stand-alone unit or with the addition of pulverized dry ice, using '180 Micron' screens to provide the highest yield and most quality product possible. Turn your perfectly preserved trim from our GreenBroz Dry Trimmers into further profit in an instant with the Alchemist 420 Extractor!
Solvent-Free
Extraction
The Alchemist 420 Extractor can be used with or without dry ice. Maintaining a solvent-free extraction process helps to ensure your product is of the utmost purity and quality that your customers expect from your business.
Purely Sift
180 Micron Screens
High-quality 180 micron screens come standard with your Alchemist machine. You may also purchase backup or alternate screens at 80 or 135 microns.
High Yields
Maximize Your Profits
The Alchemist 420 Extractor has a capacity of 8 cubic feet and can fit as much as 10 pounds of trim at a time while producing a high-quality yield of 15%-25% by weight. With a variable run timer that allows you to stop the process at any time, you can dial in your runs to maximize efficiency and profitability.
Specifications
Construction: Food-Grade Stainless Steel & HDPE
4x 180 Micron Screens (Standard)
4x 80 or 135 Micron Screens (Optional)
Whisper Quiet Motor
Adjustable Timer
Yield: 15%-25% By Weight
Capacity: 8 Cubic Feet
Fits 8-10 Pounds of Trim (depending on density)
Power: 115v 60Hz at 40W 0.7 Amp
Speed: 20 Revolutions Per Minute
Trichome Collection Bin
Heavy Duty Stainless Steel Stand
Lock Handle Increases Ease of Use
One-Year Manufacturer's Warranty
Dimensions (table up): 41" W x 35.5" L x 65.25" H
Dimensions (table down): 34.5" W x 35.5" L x 65.25" H
Weight: 189 Pounds